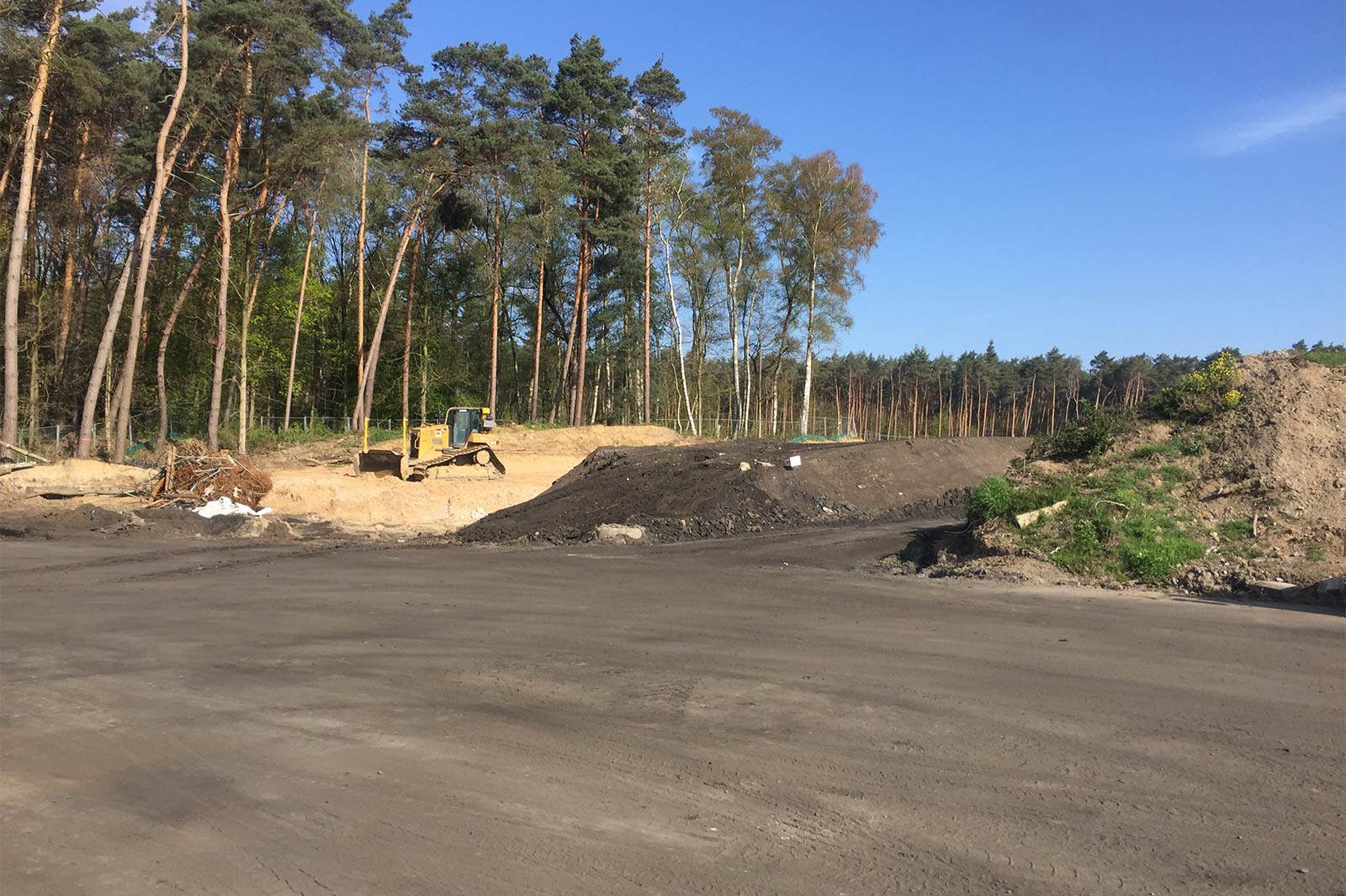 Renovation of Rottweil shooting range
Project period
2017 until 2019
Client
TroPark GmbH
Task and implementation
The former Rottweil shooting range was used as early as the end of the 19th century for testing gun ammunition, and later as a trap, skeet and course facility. It was closed in 2012. At that time, the ground was massively contaminated with lead shot and clay targets.
As part of the comprehensive remediation of contaminated sites planned by us, all trees within the dispersion zone were first felled and trunks and branches were removed by machine. The top layer of soil was taken up and lead and organic matter were removed with the help of mobile screening machines and air classifiers. The processed soil material was disposed of at a landfill site and the recovered lead was marketed. The upper soil zones around the shooting and laser ranges and the clubhouse were also heavily contaminated with heavy metals. The affected layers were removed over a large area and professionally deposited. In some areas, the soil was also heavily contaminated with PAH* and MOH**. This was also removed over a large area and sent to an incineration plant.
For later use as an industrial area, 3.7 ha of the site were profiled. As a basis for reforestation, a nutrient layer was installed on the remaining area. Parts of the area were prepared as a protection zone for sand lizards.
Project data
Clearing the forest area
Excavation and processing of the soil for lead recovery and
organic material
Disposal of the contaminated soil in a DK III landfill site
Excavation and disposal of the contaminated soil around the shooting range
Remediation of the PAH-contaminated soil and disposal in an incineration plant
Covering the recultivation soil for afforestation
Establishment of a sand lizard habitat
Terrain profiling for an industrial area
Services
Basic evaluation
Preliminary planning
Design planning
Approval planning
Implementation planning
Preparation of the awarding of contracts
Participation in the awarding of contracts
Site management
Local construction supervision
*Polycyclic aromatic hydrocarbons
**Mineral oil hydrocarbons
Similar projects
back to project overview