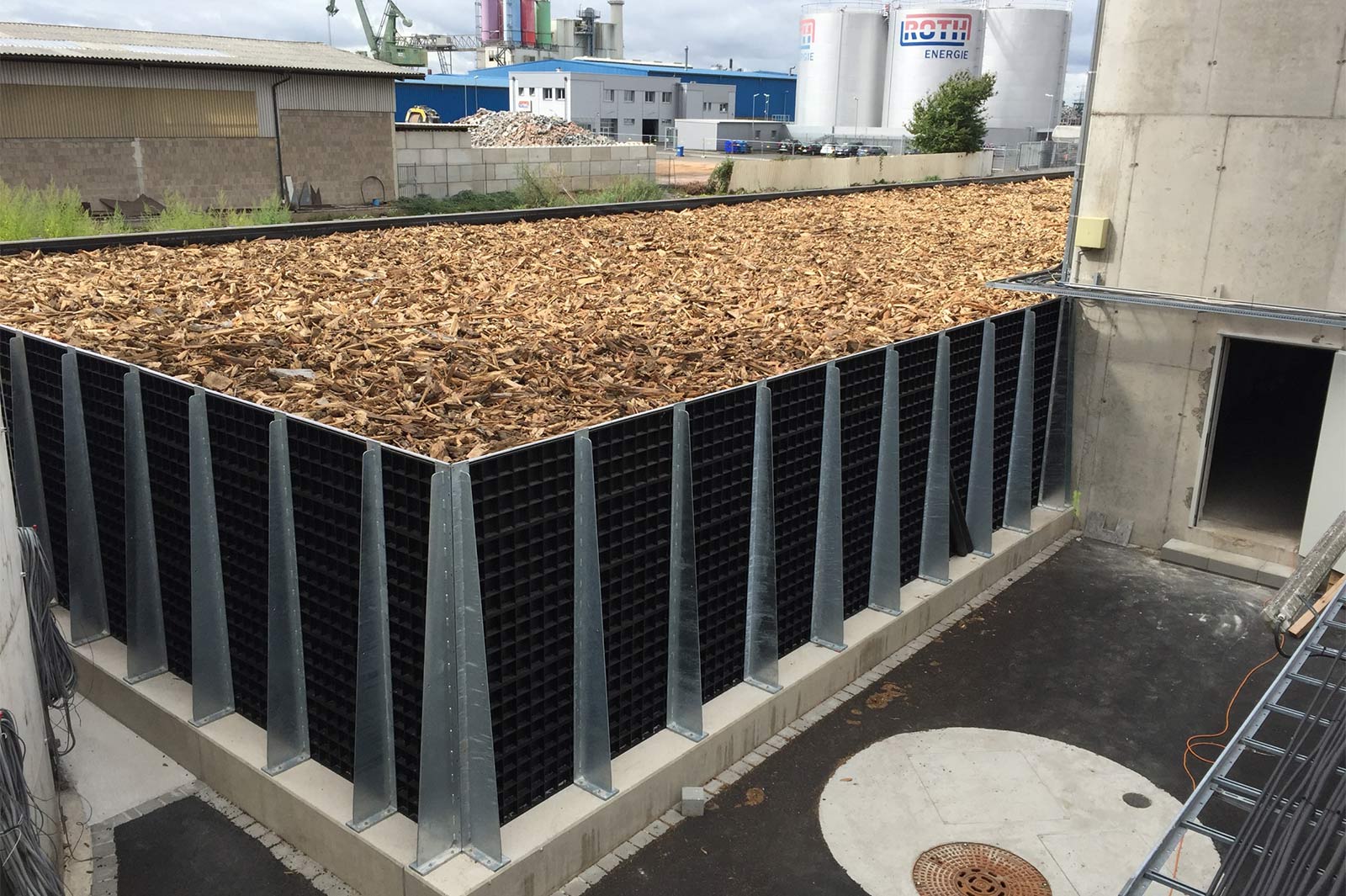 Sewage sludge drying Aschaffenburg
Project period
2012 until 2018
Client
Stadtwerke Aschaffenburg
Task and implementation
Aschaffenburger Versorgungs-GmbH has been operating a biomass cogeneration plant in Leider on behalf of the municipal utility since 2010. The thermal energy generated there is fed into the supply networks. Since there are always fluctuations in demand, alternative concepts for using the surplus heat were examined. Here, drying sewage sludge from the nearby municipal sewage treatment plant proved to be a suitable option.
First of all, a suitable process had to be selected that could also be operated with a lower heat supply. The decision was made in favour of indoor drying in a batch process. With this method, existing buildings could be included in a cost-saving way. The plant comprises three separate drying halls, each with a turning machine. For almost continuous operation, one of the halls is alternately filled and then treated. For this purpose, the sewage residues are first spread on the floor in a layer about 30 to 40 cm high by means of a wheel loader. Then the hall is closed, the waste heat from the biomass cogeneration plant is fed in and distributed by fans. An autonomous turning machine, the so-called "electric pig", travels the area around the clock, breaking up incrustations and turning the sewage sludge. The exhaust air is cleaned by a biofilter.
The dried sewage sludge is transported to the joint power plant in Schweinfurt and used there as secondary fuel. By substituting coal, up to 11,000 tonnes of CO2 can be saved per year.
Project data
Processing capacity of up to 10,000 Mg/a
Dismantling of the briquetting plant
Deconstruction of the asphalt surfaces
Soil excavation and ground improvement
Subsoil preparation by vibro-compaction
3 drying halls
3 fully automatic converters
39 heating coils incl. fans with a total output of approx. 3 MW
24 recirculation fans with a total capacity of up to 360,000 m³/h
18 exhaust fans with a total capacity of up to 552,000 m³/h
Biofilter plant with a nominal capacity of approx. 200,000 m³/h
Fully automatic plant control with online monitoring
Transport and logistics areas
Services
Basic evaluation
Preliminary planning
Design planning
Approval planning
Preparation of the awarding of contracts
Participation in the awarding of contracts
Implementation planning
Accompanying works planning of the plant supplier
Site management
Similar projects
back to project overview