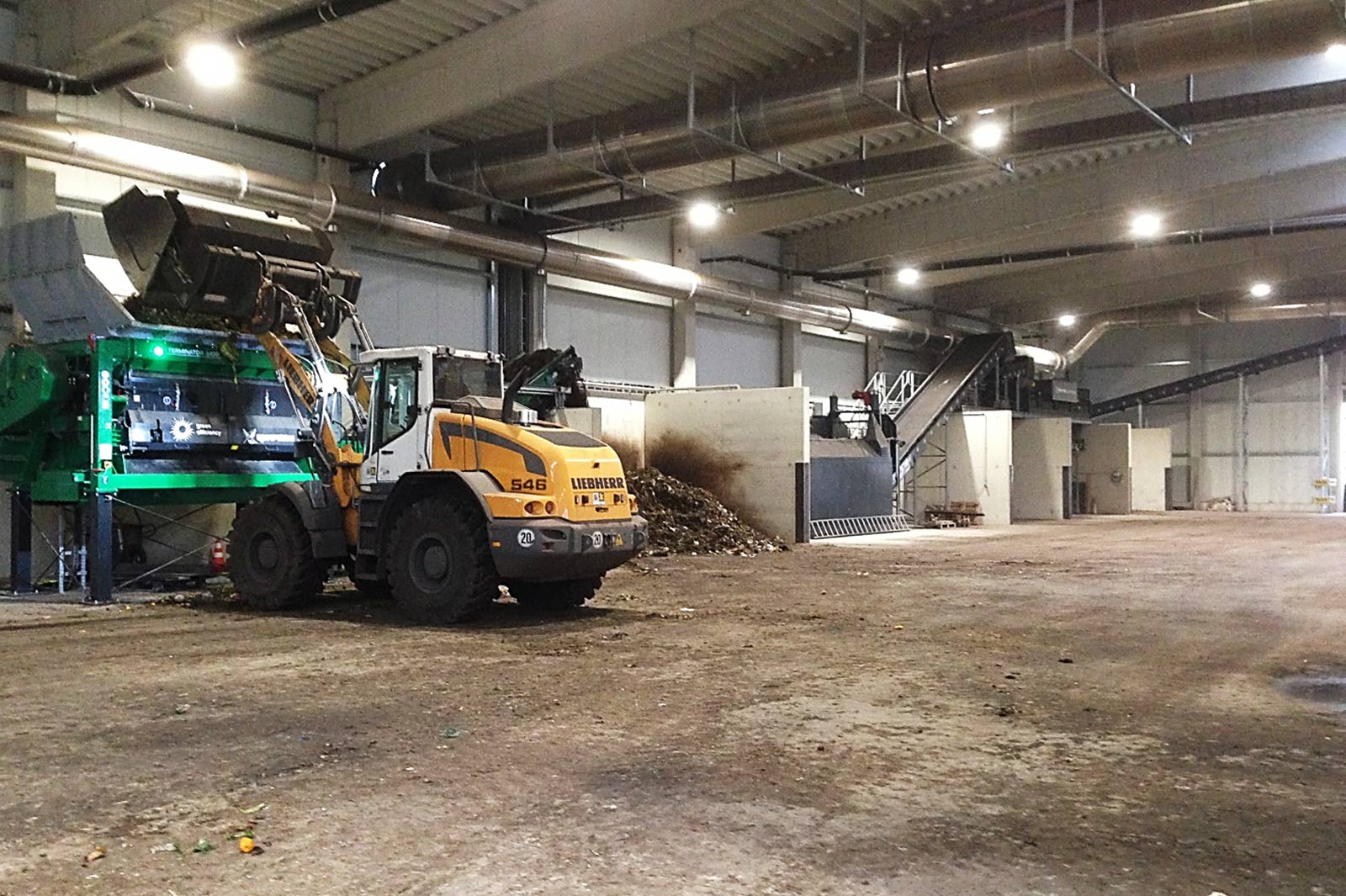 Composting plant
Swisttal-Miel
Project period
2013 until 2018
Client
KRS KompostWerke Rhein-Sieg GmbH & Co.KG
Task and implementation
Aufgabe und Umsetzung
KompostWerke Rhein-Sieg GmbH & Co. KG was already operating a closed composting facility in Swisttal-Miel and had further free and covered areas. In view of increasing quantities of biowaste, the capacity of the plant was to be expanded.
To achieve this, we designed and implemented a separate tunnel composting facility. This comprises a closed reception area, a hall for mechanical pre-processing and nine composting tunnels in which the biowaste is first hygienised and then rotted. The resulting compost is then reprocessed and transported via conveyor technology to an adjacent hall for fine processing and storage. The exhaust air is cleaned both in the halls and in the nine tunnels via an open biofilter.
According to our plans, the old rainwater retention and storage basins on the site were removed and replaced by two new storage basins – one under the asphalt surface, another above the composting tunnels. In addition, an infiltration trench was built, the subsoil was improved, and supply and disposal lines as well as asphalt surfaces were rebuilt or reconstructed.
Project data
Roof space with ventilation technology
Exhaust air purification by means of an open biofilter
Post-processing by means of feed dosing unit and star screen
2 rainwater retention or storage basins; insurance brine
Reconstruction and new construction of supply and disposal lines as well as asphalt surfaces
Services
Feasibility study
Basic evaluation and preliminary planning
Design planning
Approval planning
Implementation planning
Preparation for the awarding of contracts
Participation in the awarding of contracts
Site management and local construction supervision
Similar projects
back to project overview